2022 PROGRAM
Program in progress
Thursday, May 26th
Opening Ceremony
Plenary Lectures


Chairpersons

: Martin Brüne & Francesco Benedetti & Osman Sinanović

16:00-18:45
V. Demarin (Zagreb, Croatia): Neuroplasticity in Health and Disease
K. Bechter (Günzburg, Germany): What mean the frequent minor CSF pathologies in severe mental disorders?
M. Brüne (Bochum, Germany): Toward a truly Psychosomatic Medicine - why somatic comorbidity matters in psychiatric disorders
O. Sinanović (Tuzla, BiH): Functional neurological disorders
F. Benedetti (Milan, Italy): Post-acute COVID depression and neurocognitive impairment: clinical presentation, brain MRI correlates, and treatment.
E. Bilic (Zagreb, Croatia): Sleep disturbances in neuromuscular disorders
Z.Lacković (Zagreb, Croatia): Botulinum toxin type A from the periphery to the brain: is it good or bad?
18:45-19:30
Neurogenetics Symposium
Chairpersons: Željka Krsnik & Fran Borovečki
Ž. Krsnik (Zagreb, Croatia): Recent advances in genomic studies of the developing human brain: relevance for neurodevelopmental disorders
F. Borovecki (Zagreb, Croatia): Neurogenomics of neurodegenerative diseases
19:30-20:00
Berlin-Chemie Menarini Satellite Symposium
H. Budinčević (Zagreb, Croatia): NOAK razvijen po mjeri starijih bolesnika / iskustva iz kliničke prakse (in Croatian)
Friday May 27th
14:30-16:00
Psychopathology School
Chairpersons: Martin Brüne & Karl Bechter
D. Endres (Freiburg, Germany): Autoimmune-mediated obsessive-compulsive disorder
K. Bär (Jena, Germany): Central components of aberrant pain processing in anorexia nervosa
M. Bechi (Milan, Italy): Empathy for physical and psychological pain in borderline personality disorder: preliminary data
M. Brüne (Bochum, Germany): Somatic health of young people with borderline personality disorder
16:00-17:30
Graz Stroke Symposium Diagnosis and Treatment of Cardioembolic Stroke
Chairpersons: Kurt Niederkorn & Thomas Gattringer
T. Gattringer (Graz, Austria): Introduction and overview on cardioembolic stroke
M. Kneihsl (Graz, Austria): Detection and treatment of atrial fibrillation in stroke patients
S. Horner (Graz, Austria): PFO-related stroke: recent guidelines on diagnosis and management
D. Scherr (Graz, Austria): The perspective from interventional cardiology
17:30-18:00
Pfizer Satellite Symposium (in Croatian)
M. Crnjaković (Zagreb, Coatia): Secondary stroke prevention – from neurologist's perspective
Frederic-Ivan Silconi (Pula, Croatia): Case report

18:00-19:30
Neurodegenerative Diseases and Alzheimer's Disease Symposium


Chairpersons

: Vladimira Vuletic & Miroslav Cuturic

G. Novotni (Skoplje, N. Macedonia): The complex interplay of COVID-19 and Alzheimer's Disease-a glimpse to the future
M. Čuturić (Columbia, USA): Huntington's Disease: Ongoing Clinical Trials Update
N. Klepac (Zagreb, Croatia): Importance of early diagnosis of Alzheimer's disease in the light of emerging disease modifying therapy
V. Vuletić (Rijeka, Croatia): Updates on Dystonia
19:30-20:00
Novartis Satellite Symposium:
V. Vuletic (Rijeka, Croatia): Innovating for multiple sclerosis and migraine together (in Croatian)
Saturday, May 28th, 2022.
Saturday, May 28th
Headache Symposium


Chairpersons

: Sonja Antić & Marjan Zaletel

08:30-09:30
M. Zaletel (Ljubljana, Slovenia): Migraine Self-Reported Disability and Impact of Mental Dimension of Health in Slovenia
S. Antic (Aarhaus, Denmark): Endovascular Treatment for Venous Sinus Stenosis in Idiopathic Intracranial Hypertension
H. Budinčević (Zagreb, Croatia): Migraine and stroke
09:30-11:00
Stroke Symposium
Chairpersons: Anita Arsovska & Bojana Zvan
M. Mijajlovic (Belgrade, Serbia): Role of ultrasonography in cerebral vasculitides diagnosis
A. Arsovska (Skoplje, N. Macedonia): Stroke in pregnancy and puerperium: etiology, diagnosis and treatment
B. Zvan (Ljubljana, Slovenia): The role of the mechanical revascularisation in the TeleKap network
D. Bereczki (Budapest, Hungary): The effect of the COVID-19 pandemic on stroke care in Hungary
11:00:12:30
Multiple sclerosis symposium
Chairpersons: Vanja Basic Kes & Uros Rot
J. Drulovic (Belgrade, Serbia): Novelties in the treatment of multiple sclerosis
U. Rot (Ljubljana, Slovenia): Neurological complications of immune checkpoint inhibitors
E.

Koutsouraki

(

Thessaloniki

, Greece):

Autonomiy nervous system disorders in multiple sclerosis

V. Bašić Kes (Zagreb, Croatia): Pregnancy and multiple sclerosis
12:30-13:45
Circadian control of inflammation pathways: PNEI approach
Chairpersons: Vida Demarin & Sanja Toljan
S. Toljan (Zagreb, Croatia): Circadian rhythm disruption in chronic pain syndrome
V. Demarin (Zagreb, Croatia): Circadian rhythm disruption in neurodegenerative disorders
S. Morović (Zagreb, Croatia): Circadian rhythm disruption in neuroinflammatory diseases
13:45-15:00
Epilepsy Symposium
Charipersons: Iris Zavoreo & Ana Sruk
I. Zavoreo (Zagreb, Croatia): Physical activity and epilepsy
A. Sruk (Zagreb, Croatia): Impact of epilepsy on patients` psychosocial well-being
M. Rakuša (Maribor, Slovenia): Cognitive impairment in people with epilepsy
15:15-16:00
Sports Psychiatry symposium
Chairpersons: D. Marčinko & T. Franić & V. Markser & S. Drmić
V.Markser (Köln, Germany): Sports Psychiatry as medical Discipline and its Fields of Activities
T.Franić (Split, Croatia): Sports Psychiatry in Croatia
16:00-18:30
Forensic Psychiatry and Personology Symposium (D. Marčinko & N. Buzina)
D. Marčinko (Zagreb, Croatia): Narcissistic personality disorder in forensic psychiatry
N. Buzina (Zagreb, Croatia): Treatment of offenders not-guilty-by-reason-of-insanity in the Republic of Croatia – history, current affairs and the future
V. Šendula Jengić (Rab, Croatia): Some Obstacles in Forensic Psychiatry
M. Bajs Janović (Zagreb, Croatia): Insight in forensic Neuroscience
A. Savić (Zagreb, Croatia): Forensic Risk and Integration of Sequential Intercept Model in First-Episode Psychosis Program
G. Arbanas (Zagreb, Croatia) : Female offenders not-guilty-by-reason-of-insanity
M. Kudumija Slijepčević (Bjelovar, Croatia): Early Detachment from Primary Object and Patological Stealing – forensic discussion
18:30-20:00
HISPA Symposium
Chairpersons: Sandra Morović & Nebojša Tasić
I. Mintale (Riga, Latvia): Lifestyle and vascular health
M. Georgijeva (Zagreb, Croatia): Cholesterol-Are we serious enough?
Y. Sirenko (Kiev, Ukraine): Changes of the Systemic Arterial Stiffness in Pulmonary Hypertension
A. Tomić (Doboj, Bosnia and Hercegovina): Atrial fibrillation as a cause of stroke in diabetics
M.J. Jurašić (Zagreb, Croatia): Cerebrovascular risk factors and recovery after stroke

Sunday, May 29th, 2022.
Sunday, May 29th
08:30-09:30
Pula MS Day (In Croatian)
Chairpersons: S. Butkovic Soldo & D.Janko Labinac & Sanja Tomasović
K. Bacic Baronica (Zagreb, Croatia): Multiple sclerosis and pain
D. Karnis (Lipik, Croatia): Creative workshops in MS rehabilitation
I. Kampic (Osijek, Croatia): Depression severity and its impact on quality of life in multiple sclerosis patients in Clinical Hospital Center Osijek - Croatia

09:30-11:00
Psychopathology School - Part 2.
Chairpersons: Karl Bechter & Martin Brüne
G. Agostoni (Milan, Italy): Autistic symptoms in schizophrenia: tackling their co-occurrence and the impact on functional outcome
F. Cuoco (Miln, Italy): Shake my hands and stand up: the role of grip strength and functional mobility in schizophrenia
M. Bosia (Milan, Italy): Disentangling clinical profiles in schizophrenia through semi-structures speech analysis
K. Bechter (Günzburg, Germany): What may the frequent CSF pathologies in affective and schizophrenic spectrum disorders mean?

11:00-13:00
Neuropsychiatry Symposium
Chairpersons: Ivica Šain & Hrvoje Budinčević
M. Jakovljevic (Zagreb, Croatia): Resilience and Neurorestoratology in Psychiatry: Elusive Dreams Rolling on the Horizon
C. Scheiber (Ulm, Germany): Deficiency of anti-inflammatory macrophages in blood, increased IL-8 and exosomal miR-21 in the CSF may be functionally relevant biomarkers in Affective (AF) and Schizophrenic Spectrum (SZ) Disorders
S. Tomasović (Zagreb, Croatia): The prevalence of depression in dementia syndrome
S. Kaštelan (Zagreb, Croatia): Neuroophthalmological disorders associated with obstructive sleep apnoea
M. Prenc (Zagreb, Croatia): Diagnosing venous stroke : tips & tricks with neurological-radiological correlation
A. Mindoljevic Drakulic (Zagreb, Croatia): Transference and countertransference in the light of the student–teacher relationship
I. Mosic (Rijeka, Croatia): Cultivating calm mind in challenging circumstances

13:00-14:00
Best Poster Awards
14:00-15:00
Closing ceremony



Poster Session (viewing + up to 5 min video upload)
Chairpersons - raters: Kal Bechter, Kurt Niederkorn, Osman Sinanović, Ivica Šain

Accepted Posters:
POSTERS PSYCHIATRY.
1. INFLUENCE OF COVID-19 PANDEMIC ON THE INTENSITY OF ANXIETY IN PATIENTS WITH MENTAL DISORDERS. Bojana Đukić, Nikola Lalović, Milan Latas
2. THE EARLY MALADAPTIVE SCHEMAS AND CLINICAL CHARACTERISTICS OF BREAST CANCER. Olivera Žikić, Jelena Kostić, Gordana Nikolić.
3. POST-TRAUMATIC STRESS DISORDER AND RISK OF DEMENTIA: THEORETICAL REVIEW Mirko Dolić, Bojan Radojičić, Dejan Hristović.
4. ANTIDEPRESANT INDUCED SWEATING AND DIFFICULTIES IN TERMOREGULATION AS AN SIDE EFFECT IN TREATMENT OF OBSSESIVE COMPULSIVE DISORDER. Manusheva Nensi, Babinkostova Zoja, Stefanovski Branislav.
5. TREATMENT RESPONSE PREDICTOR EVALUATION OF SERUM CORTISOL, DHEA-S AND THEIR RATIO IN ACUTE SCHIZOPHRENIA Zoja Babinkostova, Nensi Manusheva, Branislav Stefanovski
6. DOES COVID-19 INFECTION PROMOTE OR EXACERBATE DEPRESSION OR DEMENTIA IN 64-YEAR-OLD FEMALE PATIENT? CASE REPORT.
7. ONEIROID CATATONIA DUE TO THE USAGE OF SPICE: THE CASE STUDY Olena Pityk, Antonina Pushko. Ivano-Frankivsk National Medical University, Department of Psychiatry, Narcology and Medical Psychology, Ivano-Frankivsk, Ukraine.
8. OSDI QUESTIONNAIRE AS AN INDICATOR OF TEAR FILM DYSFUNCTION IN PATIENTS WITH SCHIZOPHRENIA. Bakija Ivana.
9. LINGUISTIC RELATIVITY AND META CONCEPTUAL PRESCRIPTIVE MODES IN PSYCHIATRIC PRACTICE - A GEDANKEN NOTE. Sriram Balasubramanian.
10. FAMILY PSYCHOLOGICAL REHABILITATION OF ATO SOLDIERS Antonina Pushko, Igor Todoriv.
11. CHRONIC TRAUMATIC ENCEPHALOPATHY (CTE) AND SUICIDE. Luka Pavlinac, Danijela Mosković, Mirta Peček, Marijana Peček Vidaković.
12. DETECTION OF KLEINFELTER'S SYNDROME IN THE PATIENT WITH ASPERGER SYNDROME. Natalia Ustinova, Natalia Jourkova, Leyla Namazova-Baranova.
13. ANOREXIA NERVOSA AS PRESENTED IN FILMS FROM THE PSYCHODYNAMIC PERSPECTIVE. Lea Tomašić, Jelena Krpan, Stanislav Matačić.
14. ALTERED N-GLYCOSYLATION OF BLOOD AND BRAIN PROTEINS IS ASSOCIATED WITH VULNERABILITY TO STRESS Thomas Klarić, Csilla Fazekas, Eszter Sipos, Bibiá Török, Manon Bellardie, Gordana Erjave, Gordan Lauc, Nela Pivac, Dóra Zelena.
15. FTO GENE ASSOCIATION WITH DEPRESSION – DOES FTO GEN AFFECT OBESITY IN PATIENTS WITH DEPRESSION Ana Marija Popović, Filip Mustač, Martina Matovinović, Darko Marčinko.
16. AUTOBIOGRAPHICAL MEMORY IN CHRONIC SCHIZOPHRENIA: AN 8-YEAR FOLLOW-UP STUDY. Christina J. Herold, Céline Z. Duval, Johannes Schröder
17. NEUROTOXICITY DUE TO CHRONIC LITHIUM TOXICITY: TREAT THE PATIENT, NOT THE NUMBERS. Stefania Kalampokini, Artemios Artemiadis, Panagiotis Bargiotas, Christina Argyropoulou, George D. Vavougios, Panagiotis Zis, Georgios M. Hadjigeorgiou.
18. APPROACH TO NARCISSISTIC RAGE AS A MOTIVE FOR RAGE-TYPE MURDER. Eva Podolski, Filip Mustač, Darko Marčinko
19. COGNITIVE DEFICITS IN PERSONALITY DISORDERS AND VIOLENT BEHAVIOR RISK. Nazmie Ibishi Musliu, Tringa Krasniqi, Elbasan Ahmeti
20. PARKINSON'S PSYCHOSIS: A CASE REPORT. Mirela Grgić, Ivana Grgić, Nina Brdar
21. THE IMPACT OF THE COVID 19 PANDEMIC ON THE USERS OF THE SERVICES IN THE MENTAL HEALTH CENTERS WITHIN PHО PSYCHIATRIC HOSPITAL IN DEMIR HISAR, NORTH MACEDONIA. Valentina Talevska, Angela Ristevski
POSTERS NEUROLOGY.
22. CONSTANT HEADACHE AFTER COVID-19. Ana Golez.
23. MULTIPLE SCLEROSIS AND NEUROGENIC BOWEL DYSFUNCTION. Tudor Katarina Ivana, Mustac Filip, Pasic Hanna, Mijic Sime, Bosnjak Pasic Marija.
24. EFFECTS OF CHRONIC ALCOHOL EXPOSURE ON HEAT STRESS SURVIVAL IN TRANSGENIC CAENORHABDITIS ELEGANS (C. ELEGANS) MODEL OF HUNTINGTON'S DISEASE (HD). Gregory King, Miroslav Cuturic.
25. THE IMPORTANCE OF THE SUBPLATE FORMATION PERIOD IN HUMAN CORTICOGENESIS AND THE POTENTIAL PATHOGENESIS OF NEURODEVELOPMENTAL DISORDERS. Alisa Junaković, Janja Kopić, Ivica Kostović, Željka Krsnik.
26. CEREBROVASCULAR DISEASES AND NOCTURNAL DIPPING PROFILE. Vesna Đermanović Dobrota, Ingrid Prkačin,Juraj Jug, Vesna Lukinović-Škudar, Sandra Vučković - Rebrina, Ivana Jurca, Silva Butković Soldo, Martina Lovrić.
27. ANTITHROMBOTIC THERAPY AND RECURRENT STROKE IN PATIENTS WITH ATRIAL FIBRILLATION. Dorotea Vidaković, Ivanka Maduna, Hrvoje Budinčević.
28. METHODOLOGY, CHARACTERISTICS, AND CLINICAL VALIDITY OF POSTERIOR ROOT MUSCLE REFLEX IN THE MUSCLES OF LOW EXTREMITIES. Julija Rimac, Vedran Deletis, Davor Jančuljak, Biserka Kovač.
29. POST-COVID- 19 SYNDROME ASSOCIATED WITH EPSTEIN-BARR VIRUS (EBV) REACTIVATION- A CASE REPORT. Dobrinka Petković, Borislav Vuković.
30. ANTITHROMBOTIC THERAPY AND FIRST-EVER ISCHEMIC STROKE IN PATIENTS WITH ATRIAL FIBRILLATION. Ivanka Maduna, Dorotea Vidaković, Hrvoje Budinčević.
31. ACCUMULATION OF PHOSPHORYLATED TAU CONTRIBUTES TO CORTICAL PATHOLOGY FOLLOWING TRAUMATIC BRAIN INJURY IN MICE. Tamara Janković, Petra Dolenec, Kristina Pilipović.
32. DIFFUSE AXONAL INJURY-TWO CASE REPORTS. Andela Babic, Robert Baronica, Tina Tomić Mahečić.
33. LOWER COGNITIVE RESERVE AS A SIGN OF HISTORICAL GENDER INEQUALITY Danijel Slavić, Zlatko Božić, Goran Knezović, Jelena Dangić, Aleksandra Popović.
34. DIAGNOSIS OF THE EARLY STAGE CEREBRITIS BY MAGNETIC RESONANCE IMAGING: A CASE REPORT Govori Valbona, Rexhepi Kastriot, Kutllovci Arben.
35. PROTECTIVE IMPORTANCE OF COGNITIVE RESERVE IN COGNITIVE AGING. Danijel Slavić, Sanela Popović, Tijana Vujanić Stankov, Marija Stamenković.
36. SOCIAL ANXIETY DISORDER IN PATIENTS WITH MULTIPLE SCLEROSIS. Danijela Mosković, Luka Pavlinac, Mirta Peček, Marijana Peček Vidaković.
37. RELEASING DYNAMIC OF SERUM CALPROTECTIN IS NOT SIGNIFICANT IN PREDICTING ISCHEMIC STROKE OUTCOME. Ana Sruk, Hrvoje Budinčević, Ana-Maria Šimundić, Lora Dukić, Tena Sučić Radovanović, Helena Čičak, Daria Pašalić.
38. PILOCYTIC ASTROCYTOMA IN A 42-YEAR-OLD MALE: A CASE REPORT. Andrija Meštrović, Hrvoje Budinčević, Ana Sruk, Ivana Brnadić, Gordana Sičaja, Zurap Raifi, Berislav Ruška, Fabijan Đumbir
39. ENCEPHALOPATHY CAUSED BY ALPRAZOLAM WITHDRAWAL SYNDROME-A CASE REPORT. Fabijan Đumbir, Ana Sruk, Hrvoje Budinčević, Zurap Raifi, Gordana Sičaja, Berislav Ruška, Andrija Meštrović.
40. PHARMACOGENETICS OF ANTICONVULSIVE MEDICATIONS: REVIEW. Dorian Laslo, Suzana Mimica.
41. MRI PERFUSION QUANTIFICATION OF MOUSE BRAIN USING DYNAMIC SUSCEPTIBILITY CONTRAST IMAGING Rok Ister, Siniša Škokić, Helena Justić, Marina Radmilović Dobrivojević, Srećko Gajović.
42. INTRAUTERINE CMV INFECTION AND BRAIN: A CASE REPORT. Nikola Gotovac, Marta Gotovac, Snježana Kaštelan.
43. ZONISAMIDE CAUSED ACUTE RENAL FAILURE IN 69-YEAR-OLD FEMALE PATIENT. Zurap Raifi, Berislav Ruška, Ana Sruk.
44. SPECTACULAR SHRINKING DEFICIT: A CASE REPORT. Slaven Lasić, Filip Đerke, Jasna Badžak, Petra Bago Rožanković, Davor Sporiš, Silvio Bašić.
45. TREATMENT OF ANOMIE IN PATIENTS WITH WERNICKE'S APHASIA. Tanja Milovanovic, Mile Vukovic.
46. LOW SERUM 25-HYDROXYVITAMIN D CONCENTRATION AND ALZHEIMER'S DISEASE RISK IN PATIENTS WITH TYPE-2 DIABETES MELLITUS. Betul Sumbul-Sekerci, Ozlem Gelisin, Abdusselam Sekerci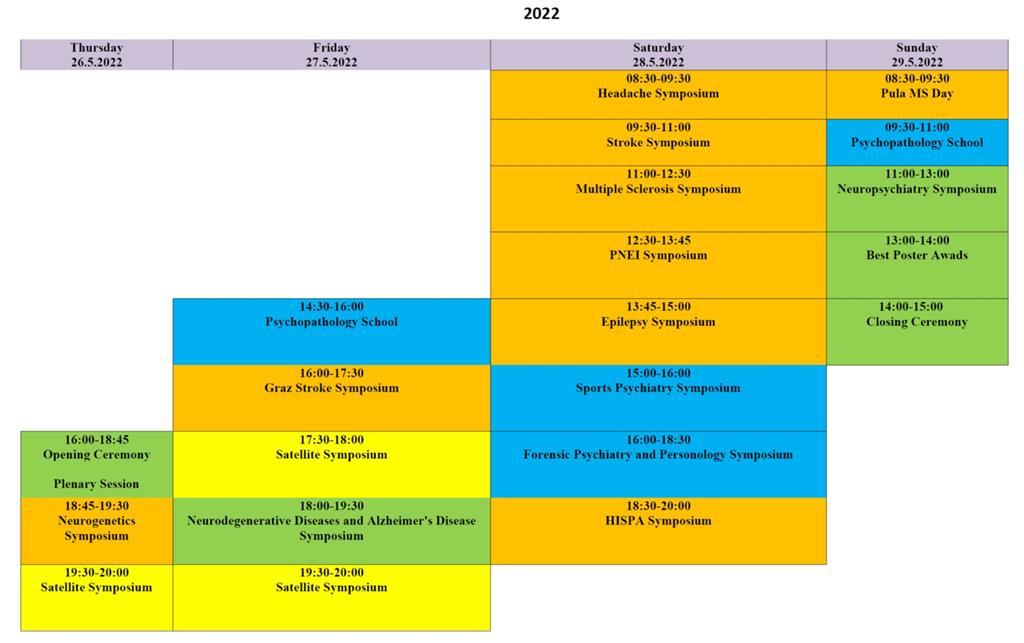 ---
We look forward to welcoming you to Pula in-person event! The Administrative Secretariat is pleased to assist you with further details.
---