2022 PROGRAM
Program in progress
09:00-10:00
Hall A
OPENING CEREMONY
10:00-11:40
Hall A

MAIN THEME
Chairpersons: V. Demarin & O. Sinanović
Vida Demarin (Zagreb, Croatia): How the brain is affected by arts
Radwa Khalil (Bremen, Germany): Creative Therapy in Health and Disease: Inner Vision
Osman Sinanović (Tuzla, BiH): Restless Legs Syndrome: Disorder between Neurology and Psychiatry.
Zdravko Lacković (Zagreb, Croatia): Botulinum toxin and depression: clinical and preclinical evidence
Ervina Bilić (Zagreb, Croatia): Non-motor signs of myasthenia gravis
11:40-12:00
Coffee Break
12:00-13:00
Hall A
GRAZ STROKE SYMPOSIUM: DIAGNOSIS, CLINICAL MANAGEMENT AND TREATMENT OF INTRACRANIAL HEMORRHAGE
Chairpersons: K. Niederkorn & T. Gattringer
Thomas Gattringer (Graz, Austria): Neuroimaging of intracranial hemorrhage
Kurt Niederkorn (Graz, Austria): Clinical management of intracranial hemorrhage
Hannes Deutschmann (Graz, Austria): Neurointerventional treatment of macrovascular causes of intracranial hemorrhage
12:00-13:00
Hall B
"LETS TALK ABOUT OLD AGE PSYCHIATRY" SYMPOSIUM
Chairperson: N. Mimica

Ninoslav Mimica (Zagreb, Croatia): The role and place of old age psychiatry today
Petrana Brečić (Zagreb, Croatia): Affective disorders and suicidality in the elderly
Marija Kušan Jukić (Zagreb, Croatia): Delirium and dementia
Zrnka Kovačić Petrović (Zagreb, Croatia): Addictions in the elderly
13:00-14:00
Lunch
14:00-15:30
Hall A
NEURODEGENERATIVE SYMPOSIUM
Chairpersons: V. Vuletic & M. Cuturic
Miroslav Cuturic (Columbia, USA): Hunitngton's Disease: Clinical Research and the Road Ahead
Gabriela Novotni (Skopje, N. Macedonia): Inflammaging and the Brain
Maja Relja (Zagreb, Croatia): Could we improve dystonia management in Europe?
Vladimira Vuletić (Rijeka, Croatia): Invasive methods in Movement disorders
14:00-17:00
Hall B
PULA PSYCHOPATHOLOGY SUMMER SCHOOL 2023- FOCUS ON SCHIZOPHRENIA
Chairpersons: Karl Bechter, Dominique Endres, Martin Brüne
Dominique Endres (Freiburg, Germany): Autoimmune Psychosis as a new differential diagnosis of Schizophrenia Spectrum
Norbert Müller (Munich, Germany): Neuroinflammation in Schizophrenia-actual status of knowledge
Paolo Enrico (Milan, Italy): Neural and immunological similarities/differences - schizophrenia vs. bipolar disorder
Margherita Bechi (Milan, Italy): Empathy for psychological and physical pain in borderline personality disorder
Giulia Agostoni (Milan, Italy): Looking into the brain through the language window
Monika Zdravkovic (Leiden, Netherlands): Linking adverse childhood experiences to borderline personality features
Martin Brüne (Bochum, Germany): Insights from behavioral ecology regarding somatic comorbidity in borderline personality disorder
15:30-16:30
Hall A
PULA MS SYMPOSIUM
Chairpersons: V. Bašić Kes & U. Rot
Jörg Kraus (Austria): Overview of modern and upcoming MS treatment
Vanja Bašić Kes (Zagreb, Croatia): MS and pregnancy
Uroš Rot (Ljubljana, Slovenia): TNF alpha inhibitors and demyelinating/inflammatory diseases of the nervous system
16:30-17:00
Hall A
NOVARTIS Satellite Symposium
Vladimira Vuletić (Rijeka, Croatia): Innovation in MS together
17:00-17:15
Hall A
NOVARTIS Satellite Symposium
Sanja Tomasović (Zagreb, Croatia): Innovation in Migraine together
17:30-19:00

POSTER SESSION
Chairpersons: K. Bechter, I. Šain, K. Niederkorn, H. Budinčević
Saturday, 20.5.2023.
09:00-11:00
Hall A
MAIN THEME
Chairpersons: K. Bechter & M. Brüne
Oxana Kosenko (Ulm, Germany): Gerd Huber (1921-2012): Pioneer of Schizophrenia Research
Karl Bechter (Günzburg, Germany): What mean the frequent CSF pathologies in affective and schizophrenic spectrum disorders?
Paolo Enrico (Milan, Italy): Stratification of first-episode psychotic patients based on immuno-imaging markers
Norbert Müller (Munich, Germany): Current State in Inflammation research and Anti-inflammatory Treatment in Major Depression
Francesco Benedetti (Milan, Italy): Circulating immune cell composition and activation status associate with brain white matter microstructure in Mood Disorders
Martin Brüne (Bochum, Germany): Gut-brain-interaction in psychiatric disorders
Milan Latas (Belgrade, Serbia): Benzodiazepines in 21th century - option or a big mistake
11.00-12.00
Hall A
MIGRAINE SYMPOSIUM
Chairpersons: B. Zvan & M. Zaletel
Marjan Zaletel (Ljubljana, Slovenia): Can Calcitonine gene related peptide be causally related to migraine aura?
Bojana Žvan (Ljubljana): What is the right choice for the treatment of episodic and chronic migraine in people at cardiovascular risk?
Mariana Ciobanu (Nashville, USA): Management of refractory migraine in adolescents and young adults- challenges and rewards
Hrvoje Budinčević (Zagreb, Croatia): The potential role of Anti-CGRP Inhibitors in treatment of post-traumatic headache
11.00-12:30
Hall B
SPORT PSYCHIATRY SYMPOSIUM
Chairpersons: D. Marčinko, V.Z. Markser, T. Franić
Martin Brüne (Bochum, Germany): Cardiovascular risk factors in young people with borderline personality disorder: why there is a need for more sports, not less
Tomislav Franić (Split, Croatia): How to assess mental health in athletes – the role and problems of assessment and screening tools
Stipe Drmić (Zagreb, Croatia): Mental benefit of sports – sports therapy in mental illness
Darko Marčinko (Zagreb, Croatia): Healthy and pathological narcissism in football players
12.00-12.30
Hall A
ACADEMIC LECTURE
Leontino Battistin (Padua, Italy): Reflections of a clinician on the actual trends in clinical neurosciences
12:30-13:00
Hall A
MOLEAC Satellite Symposium
Anita Arsovska (Skopje, N. Macedonia): Neuroaid: The latest clinical data in stroke, TBI and AD?

13:00-14:00
Lunch
14.00-15.30
Hall A
EPILEPSY SYMPOSIUM
Chairperson: S. Bašić
Zrinka Čolak Romić (Zagreb, Croatia): Management of epilepsy in the elderly
Iris Zavoreo (Zagreb, Croatia): Neuroimmunological aspects of the status epilepticus - treatment perspectives
Željka Petelin Gadže (Zagreb, Croatia): Epilepsy and psychosis - treatment challenges
Ana Sruk (Zagreb, Croatia): Sleep and epilepsy are correlated in both directions.
14.00-15.30
Hall B
SYMPOSIUM - PROFESSIONAL MEDICAL ETHICS: CURRENT VIEWS, APPROACHES, AND CHALLENGES
Chairperson: M. Ćurković
Marko Ćurković - (Bio)ethics and professional medical ethics - a very short introduction
Ana Borovečki, Ivan Pavao Gradiški: Duties of physicians towards oneself
Marko Ćurković, Diana Špoljar Ethics at the end-of-life
Sunčana Roksandić Vidlička, Aleksandar Maršavelski: Medical professionalism – legal framework
Kristijan Sedak, Marko Marelić, Tea Vukušić Rukavina: E-professionalism - professional medical ethics in emerging digital landscapes
15:30-15:45
Hall A
MEDIS Satellite Symposium
Ana Sruk (Zagreb, Croatia): Brivaracetam: How to Get the Most Out of It in Everyday Clinical Practice.
15:45-17:30
Hall A
CEESS STROKE SYMPOSIUM
Chairpersons: A. Arsovska & M. Mijajlović
Milija Mijajlović (Belgrade, Serbia): Cerebrovascular disorders associated with COVID-19 infection
Anita Arsovska (Skopje, N. Macedonia): Rare Causes of Stroke
Frederic-Ivan Silconi (Pula, Croatia): Posterior circulation stroke
Jan Kobal (Ljubljana, Slovenia): Significant lowering of fatal outcomes due to Cerebral venous thrombosis in Slovenia
Vesna Đermanović Dobrota (Zagreb, Croatia): Metabolic syndrome and cognitive impairment
Sandra Morovic (Zagreb, Croatia): The role of HISPA in cardiovascular prevention.
15:30-17:00
Hall B
SELECTED ORAL PRESENTATIONS SYMPOSIUM
Chairperson: I. Šain
Kenan Galijašević (Zenica, BIH): The influence of daily life activities on the mental health of students
Jure Koprivšek (Maribor, Slovenia): Do changes in learning and training of staff communication skills affect the incidence of aggressive behavior associated with certain mental disorders in hospital intensive psychiatric settings
Lea Murn (Zagreb, Croatia): Will Artificial Intelligence Treat Mental Disorders efficiently as Professionals?
Igor Mosic (Rijeka, Croatia): "Thukdam" - introduction to the post-mortem altered state of the mind
17:00-18:30
Hall B
FREE TOPICS SYMPOSIUM
Chairpersons: S. Butković Soldo & D. Vidović
Domagoj Vidovic (Zagreb, Croatia): Psychoneuroimmunology of sleep deprivation
Silva Butković Soldo (Osijek, Croatia): Neurorehabilitation in MS
Valentino Rački (Rijeka, Croatia): Obtaining a Genetic Diagnosis of Dystonia - A Single Tertiary Centre Experience
Eliša Papić (Rijeka, Croatia): Functional disorders in Parkinson's disease patients with deep brain stimulation – a case series
17:30-18:30
Hall A
WORKSHOP – MULTIDISCIPLINARY APPROACH TO ACUTE STROKE
Chairpersons: D. Janko Labinac & H. Budinčević
Dolores Janko Labinac (Pula, Croatia): Headache in Emergency Room
Hrvoje Budinčević (Zagreb, Croatia): How to accelerate the route to mechanical thrombectomy?
18:30-19:30
Hall A
BEST POSTERS AWARDS PRESENTATIONS
Chairpersons: V. Demarin & F. Benedetti
Sunday, 21.5.2023 .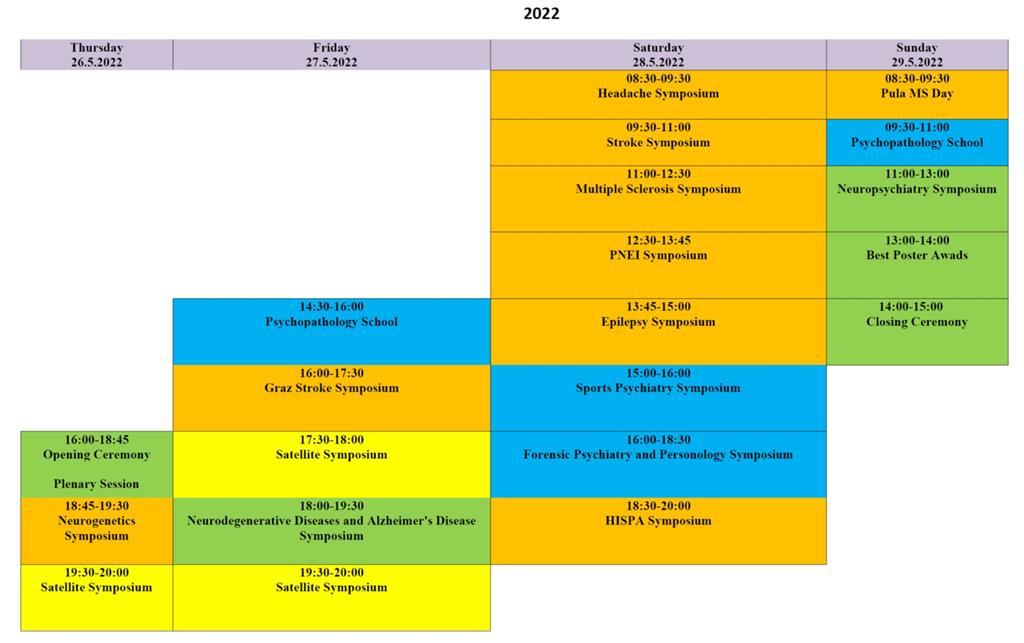 ---
We look forward to welcoming you to Pula in-person event! The Administrative Secretariat is pleased to assist you with further details.
---